LE MUSÉE DU TEMPS DE BESANÇON
A PALACE AS A MUSEUM
—
Le musée du Temps is one of a kind, offering a journey through History and Time.
The museum is housed in Granvelle Palace, a superb Renaissance building. It pays homage to Besançon's watchmaking history and tradition.
In the palace's three storeys visitors set off to explore the rich and varied collections, from the sundial to an atomic clock, via tapestries recounting the life of Emperor Charles V. Celebrating man's perpetual quest to measure time, the museum also evokes Time in its symbolic dimension and its unending flight in precious objects and vintage paintings.
After admiring the Foucault pendulum and its demonstration that the earth turns, visitors round off the visit with the palace tower and a wonderful view over the city.
> Click on the link below to consult the information concerning Le musée du Temps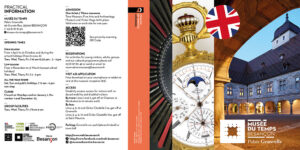 PRACTICAL INFORMATION
—
MUSÉE DU TEMPS
Palais Granvelle
96 Grande Rue, 25000 BESANÇON
+33 3 81 87 81 50
musee-du-temps@besancon.fr
—

OPENING TIMES

High season
From 1 April to 31 October, and during the school holidays (French zone A)
Tues, Wed, Thurs, Fri / 10 am-12.30 pm – 2 – 6 pm

Low season
From 2 November to 31 March (except school holidays)
Tues, Wed, Thurs, Fri / 2 – 6 pm

All the year round
Sat, Sun and public holidays / 10 am – 6 pm non-stop

Closed
Closed on Mondays and on January 1, November 1 and December 25.

—
GROUP FACILITIES
Tues, Wed, Thurs, Fri / from 9 am

ADMISSION
One ticket / Three museums
Time Museum, Fine Arts and Archaeology Museum and Victor Hugo birth place.
Valid once on each site for one year.

Full fare : 8,40€
Reduced fare (4,20€) and free entry under certain conditions

Free entry on each 1st Sunday of each month, on night openings, and national events
—
RESERVATIONS

For activities for young visitors, adults, groups and our cultural programme: please call 03 81 87 80 49 or send an email to reservationsmusees@besancon.fr

Guided tours in English and German are offered by the Tourist Office (subject to availability)
Information and reservations on +33 3 81 80 92 69 or +33 3 81 80 92 01

—
VISIT AID APPLICATION

Free download on your smartphone or tablet to rent at the museum reception (€3).

—

ACCESS

Disability access: access for visitors with reduced mobility and disabled visitors

By tram: Lines 1 and 2, get off at Chamars or Révolution (a 10-minute walk)
By bus: Lines 4, 6, 10 and Ginko Citadelle line, get off at Granvelle
Lines 3, 4, 6, 10 and Ginko Citadelle line, get off at Saint Maurice

Parking: Granvelle car park (places limited) or town hall